Infusion Centers in Connecticut, Maryland, and New Jersey
Infusion therapy is one of the greatest innovations in modern medicine. It is used to administer chemotherapy and treat all kinds of different conditions. At Regional Cancer Care Associates, infusion therapy is one of the many treatments and specialties our doctors and staff use to treat patients. With infusion centers throughout Connecticut, Maryland, and New Jersey, Regional Cancer Care Associates is standing by to assist you or your loved one in winning the battle against cancer.
What Is Infusion Therapy?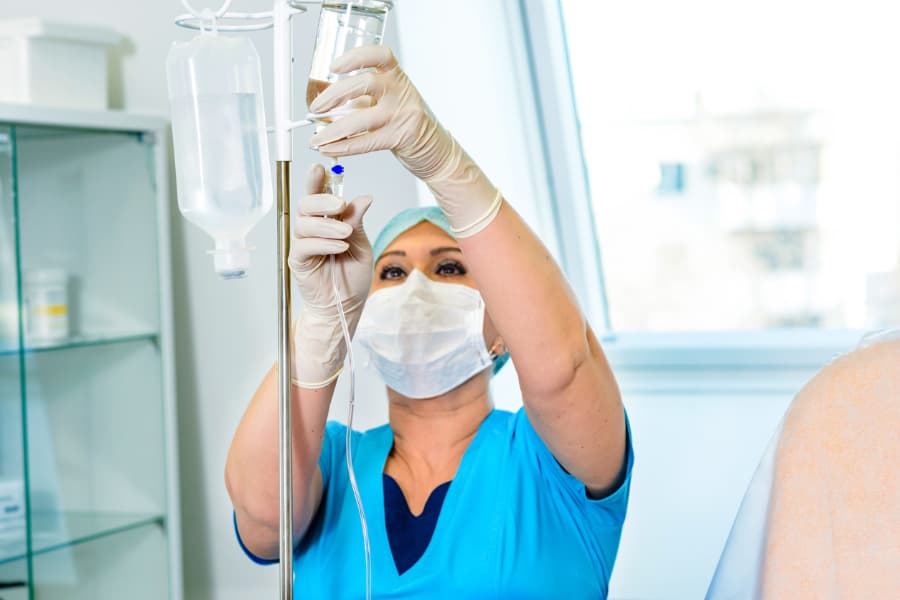 Generally, infusion therapy refers to a drug treatment given intravenously, in contrast to taking pills, liquids, topical formulas, or other methods. In many cases, an oncologist will recommend a course of chemotherapy treatment using infusion therapy to a patient. It is one of the most common and effective cancer treatments, and most patients with cancer can expect to receive chemotherapy at one point in the course of their treatment.
Infusion therapies for cancer drugs are typically carried out in hospitals or treatment centers, but they can sometimes be done in the patient's home. An oncologist can determine when and what sort of infusion treatment is needed.
Benefits of Infusion Therapy
When infusion therapy is used to administer chemotherapy drugs, it can deliver several benefits, including:
Stopping the spread of cancer
Killing cancer cells that have already begun to spread
Slowing the growth of a tumor
Helping to relieve pain and other symptoms caused by cancer
Weakening and shrinking tumors to prepare for surgery or radiation
Killing cancer cells leftover after a surgical or radiation therapy
Because of these benefits, an oncologist is likely to prescribe infusion therapy, possibly alongside other treatments, to patients with cancer.
About Our Infusion Centers
Many patients prefer receiving infusion therapy at one of Regional Cancer Care Associates' infusion centers over a hospital or even at home. That's because we always have an oncologist, nurse practitioners, pharmacists, and other medical personnel on-site as infusions are administered, and our other state-of-the-art cancer care resources are just steps away. Our infusion centers also provide an unrivaled level of convenience compared to a hospital since patients won't have to travel far or into crowded metropolitan areas.
What's more, our clinicians have extensive experience with infusion therapies and developed comprehensive procedures and protocols specific to each drug. This allows them to:
Reduce the likelihood of adverse side effects
Optimize the best outcomes
Facilitate the most efficient care possible
Receive Treatment in Connecticut, Maryland, or New Jersey
If you or a loved one requires infusion therapy for a specific type of cancer, our team of experts is standing by to help. Throughout Connecticut, Maryland, and New Jersey, Regional Cancer Care Associates has dozens of locations, each offering infusion therapy and other cancer treatment options. To learn more about our infusion centers and the full scope of treatment options, don't hesitate to contact Regional Cancer Care Associates.