Fighting cancer can make tremendous demands on a person physically, mentally, and emotionally. While recent years have seen dramatic advances in physicians' ability to treat the disease and manage treatment side effects, dealing with cancer nonetheless can at times be a grueling ordeal. So, too, in a different way, can running or walking 26.2 miles. Here's how two oncology specialists with Regional Cancer Care Associates, LLC (RCCA) – one of the nation's largest oncology networks – look to their own experience as Marathoners to better understand and encourage their patients.
From Fatherhood to Finish Line
For Andrew M. Bernstein, DO, the weight — literally — of impending fatherhood provided the impetus to step into a running regimen that has seen him complete more than 30 marathons in 10 years.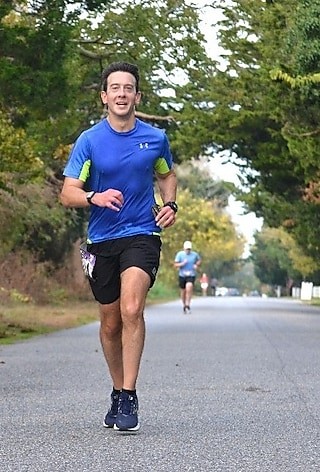 "I always hated exercise," said the medical oncologist and hematologist, who cares for patients at RCCA's Pompton Plains, N.J. office. He explains that accompanying his wife to a visit with her obstetrician tipped the scales in favor of getting fit. "When we were expecting our first child, I went with my wife to her first-trimester weigh in, and while we were there, I weighed in, too." While the visit showed that mother and child were doing fine, it also revealed that dad was 60 pounds overweight.
That finding prompted Dr. Bernstein to change his dietary habits and — eventually, not immediately — take up running. "I ran my first 5K in November 2009, and then ran a 10K race a year later. My first half marathon was in 2011, and six months later I completed my first marathon," he explained. He has run the New York City Marathon five times, the Boston Marathon twice, the Philadelphia Marathon and New Jersey Marathon six times each, as well as completing marathons in Chicago, South Carolina and other locales. With New York City, Philadelphia, Chicago and Berlin under his belt, Dr. Bernstein has only to run the London and Tokyo races to join the elite ranks of runners who have completed the Abbott World Marathon Majors series.
The physician rises about 4:30 most mornings and then meets a group of friends at 5:15 or 5:30 to run between 6 and 10 miles. "I think it makes me more effective at what I do, and enables me to be there in a better way for my patients," Dr. Bernstein said of the mental, physical and emotional benefits that running provides. He added that long runs provide the time and lack of interruptions that enable him to give in-depth thought to patients' treatment plans, and to consider whether any adjustments or new approaches might be beneficial.
Long-distance running also provides a means for Dr. Bernstein to establish rapport with patients and offer them encouragement from a nonmedical perspective. "I have a couple of marathon photos up in the office, which sometimes will prompt a discussion, or a patient will ask me, 'Why are you so fit? What do you do?' and we'll talk about it. I always stress that the significance of running a marathon or any other accomplishment is based on where you are in your life and what you're able to do. For someone who is going through chemotherapy, that's their marathon, and I tell them how much I respect what they're doing."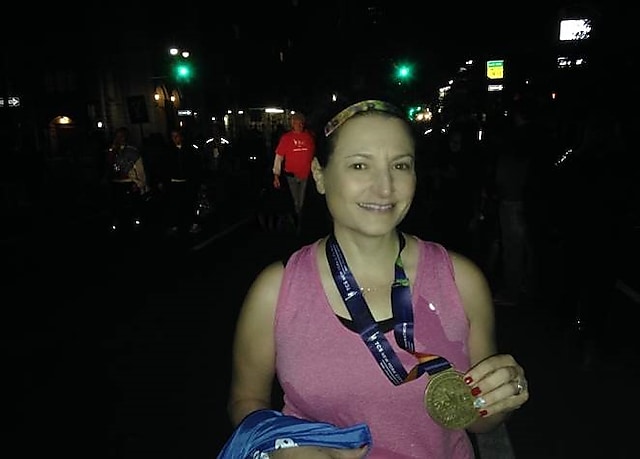 Walk Don't Run: An Oncology Nurse's Story of Diagnosis and Determination
No matter how long and hard she trained, Lisa O'Brien-Russell, RN, OCN, just couldn't seem to develop the respiratory reserve needed to be a runner.
"I was short of breath when I first started running, which isn't surprising at age 40, but it didn't get better over time, as normally would be the case," explained the oncology nursing specialist, who practices at RCCA's West Hartford, Conn., office.
Frustration with her lack of improvement led the nurse to see a cardiologist, who assessed her exercise capacity with a treadmill test. "I didn't get close to one minute into the test before the cardiologist told me to stop. My heart rate had gone up to 180 beats per minute within several seconds of starting," O'Brien-Russell recalled. That concerning finding prompted further tests that resulted in identification of an atrial-septal defect, a hole in the wall between the two upper chambers of the heart. She also was diagnosed with left bundle branch block, an abnormal electrocardiogram pattern often seen in people with atrial-septal defects.
No more running, the cardiologist ordered.
Determined to adapt her plans rather than abandon them, O'Brien-Russell became a committed walker. More than a decade after her diagnosis, she has completed two New York City Marathons, posting a 6:05 finish time in the 2015 event, and has participated in more than 100 other run/walk races of various lengths, averaging a one-event-per-month pace before COVID-19 upended last year's racing schedule.
Covering a mile in anywhere from 11 to 13 minutes, the nurse reports that many jogger friends who decide to accompany her on a walk find they have to hurry to keep up. Beyond miles logged, paces recorded, and events completed, however, the numbers that matter most to O'Brien-Russell involve the money she has been able to raise for worthy causes. An annual event that she and others organized to honor a colleague who died several years ago generates roughly $40,000 in contributions dispersed to various charities. She also has participated in walk/run events that benefited animal welfare organizations, groups that serve the homeless and hungry, and prostate cancer research initiatives.
Many years and many races after learning that she had a significant cardiovascular condition, O'Brien-Russell said, "I don't think anybody should say, 'I can't do a race.' It doesn't matter whether you do a mile in six minutes, 12 minutes or longer. That's still a mile in which you've lapped everyone who is at home sitting on the couch. And you still get the same 'runner's high' whether you're running fast, jogging or walking." She adds that research shows that brisk walking can provide roughly 90% of the health benefits of running — and at considerably lower risk for the acute and chronic musculoskeletal problems that can plague runners.
O'Brien-Russell brings the same sense of enthusiasm and encouragement to her practice of oncology nursing. "I love oncology. You never have the same day twice, but you get to see the same patients over time and build relationships with them. In fact, you don't just see and get to know the patients — you get to know their families and friends, as well, and you get to teach, which I love."
Perhaps one of the most important lessons she teaches, by example, is that a surprising and frightening diagnosis is not cause to give up; rather, it's a reason to adjust in order to keep moving down the road in a new way.
*******
Dr. Bernstein and O'Brien-Russell are among the more than 100 oncology physicians and nurse clinicians practicing with RCCA in the oncology network's 20+ care centers throughout New Jersey, Connecticut, Pennsylvania, Maryland and the Washington, DC, area.
The physicians, nurses and other health care professionals of RCCA provide care to roughly 22,000 new cancer patients and 225,000 established patients each year, offering those patients immunotherapy, targeted treatment, cell-based therapy and other cutting-edge treatments and diagnostic modalities, as well as access to clinical trials. Their provision of cancer care has continued unabated throughout the COVID-19 pandemic.
To learn more about RCCA, call (844) 928-0089 or visit RCCA.com.