Telemedicine Services for Our Patients in Connecticut, Maryland, and New Jersey
Regional Cancer Care Associates is dedicated to ensuring that people with cancer – even patients under the care of another cancer treatment network or a hospital – always have uninterrupted access to high-quality cancer care. While our offices are open during regular hours for all patients requiring in-person care, each of our 25 locations in Connecticut, Maryland, and New Jersey also offers telemedicine services. Telemedicine in oncology helps patients avoid unnecessary trips for treatment, especially during such uncertain times as the COVID-19 pandemic.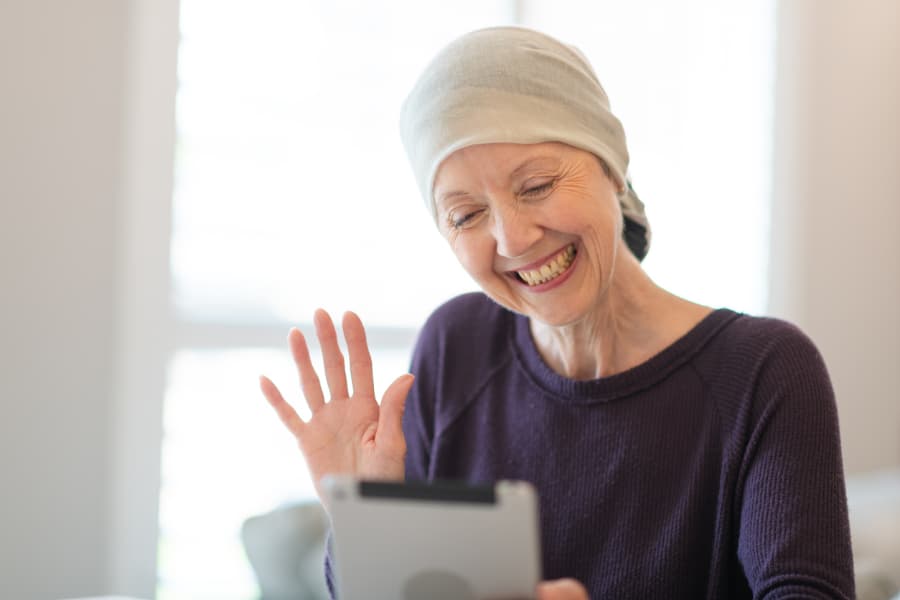 What Is Telemedicine?
Telemedicine enables our oncologists to examine patients and to diagnose and treat certain conditions via phone call or video conference. Not only is this service convenient and conducive to social distancing, but it also makes cancer care readily accessible to those who otherwise would have to wait, including housebound patients, those who lack transportation, or those who travel or have busy schedules.
Beyond taking the place of in-person appointments where appropriate, telemedicine also encompasses use of virtual communications to help you stay in touch with your physician and care team between consultations. At Regional Cancer Care Associates, we provide you with 24/7 access to our Patient Portal, which allows you to email questions or concerns, schedule appointments, view test results, and more.
How Our Virtual Visits Work
From reviewing test results to helping manage symptoms, telemedicine visits can be an appropriate option for many patients. From the comfort of your home, you can meet with your physician(s) or the advanced practice clinicians scheduled to cover for your medical visit that day. You may also meet with nurses and medical assistants depending on your needs.
There are two ways to access your virtual visit:
By phone: Upon scheduling your appointment, we will provide further instructions.
Over video conference: A laptop with a camera and microphone or a smartphone is required. When you schedule a visit, we'll email you a link to use when joining the conference.
If you have visible, concerning symptoms such as a rash, video conferencing is the preferred method. That way, we can direct you on how to find relief and determine whether an in-person follow-up appointment is necessary.
If you're concerned about sharing medical information online and want to know how your information may be used and disclosed, as well as how you can get access to this information, please review our Notice of Privacy Practices.
Preparing for Your Appointment
Before your virtual visit, prepare as you would for an in-person appointment. Write down any symptoms or concerns you'd like to discuss with your physician and any questions you have. While most insurers are covering telemedicine appointments during the COVID-19 pandemic, be sure to check with your provider about any policies that might apply to you.
When to Visit Our Offices
If you are unsure whether your symptoms or condition can be effectively addressed with our telemedicine services, contact Regional Cancer Care Associates. We'll help you determine if your physician can assist you remotely or whether it's in your best interest to visit one of our locations. Our doors are always open during normal hours for patients in need of in-person services, such as:
Chemotherapy
Immunotherapy
Targeted therapy
Radiation therapy
Hematology
Genetic testing
Clinical trial participation
When you need to see us in person, rest assured that Regional Cancer Care Associates has comprehensive procedures in place to keep all guests safe during their visits. For more information about telemedicine in oncology or accessing care amid the coronavirus outbreak, view our FAQ.