What is Genetic Testing?
Genetic mutations are an important factor in the development of cancer. By studying a patient's genes, doctors can sometimes learn more about his or her chances of developing the disease. Although genetic testing is not a cure, it can offer insights into how to prevent and successfully treat cancer in some cases. For more information about the genetic testing services at Regional Cancer Care Associates, schedule an appointment at your local office today.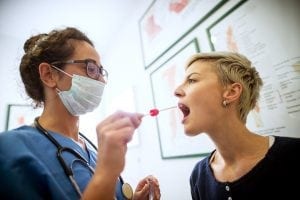 Predictive Genetic Testing
There are several reasons why a person might have genetic testing done. One reason is for predictive purposes. Doctors have discovered that some types of cancer are caused by inherited genetic mutations. This might mean that if your mother, aunt and sister all had breast cancer, you may be more likely to develop it, too. Genetic testing can help determine whether or not you have that mutated gene. For example, the BRCA1 and BRCA2 genes.
Even so, genetic testing is never an exact science, and not all cancers can be predicted this way. Researchers have found that only 10% of breast cancers and about 20% of ovarian cancers seem to be inherited. Overall, about 5% to 10% of all cancers are thought to have an inherited genetic link.
Talk to your doctor first to see if genetic testing is right for you.
Post-Diagnosis Genetic Testing
Sometimes, genetic testing won't occur until after a patient has been diagnosed with cancer. Studying the genes can help doctors decide on the best course of treatment and get better insights into the patient's prognosis and their risk of developing additional forms of cancer.
Is Genetic Testing Right for Me?
Be aware that even if you have a genetic mutation that's connected to cancer, it doesn't mean you are going to develop that cancer. It could just mean that you have an increased risk. Going for more frequent screenings and taking steps to lower your risk can help.
In addition, genetic testing is not for everyone. Your doctor may not think you are a good candidate to have it done. It can also be expensive and is not always covered by insurance. Before making the decision to get genetic testing, be sure to weigh the pros and cons and discuss your thoughts with your doctor.
How Does Genetic Testing Work?
In order to test a person's genes, the doctor will usually take a blood sample or a cheek swab. In some cases, a tissue sample may be needed. Genetic testing is not usually painful. You can expect the results to come back in about two to three weeks. If the situation is more urgent, the process can sometimes be expedited.
Cancer Care You Can Trust
The expert healthcare team at Regional Cancer Care Associates (RCCA) has the knowledge and experience to help you make difficult medical decisions. We're committed to delivering top-quality, state-of-the-art treatment close to your home.
For more information, or to schedule an appointment, call (844) 346-7222, or reach out to the office nearest you.