Regional Cancer Care Associates' (RCCA) very own Frederick P. Smith, MD, and his RCCA Lymphochase Team recently pedaled 17 miles to help raise much-needed funds for lymphoma cancer research and education.
A participant in the 2020 Lymphoma Research Ride, held Oct. 4, Dr. Smith joined hundreds of lymphoma survivors, families, friends, physicians and other health care professionals who come together each year to honor and remember those whose lives have been touched by lymphoma.
Sponsored by the Lymphoma Research Foundation (LRF), the bike ride raises critical funds for lymphoma research and benefits patients living with this blood cancer disease. Over the years, the ride has dedicated more than $5 million to fund innovative research programs and support the educational programs and services LRF provides to those touched by the disease.
A board-certified medical oncologist, Dr. Smith completed his oncology training at Georgetown University's Lombardi Cancer Center. A native of Burma, Dr. Smith attended Niagara University in New York and later attended St. Louis University Medical School, where he graduated cum laude.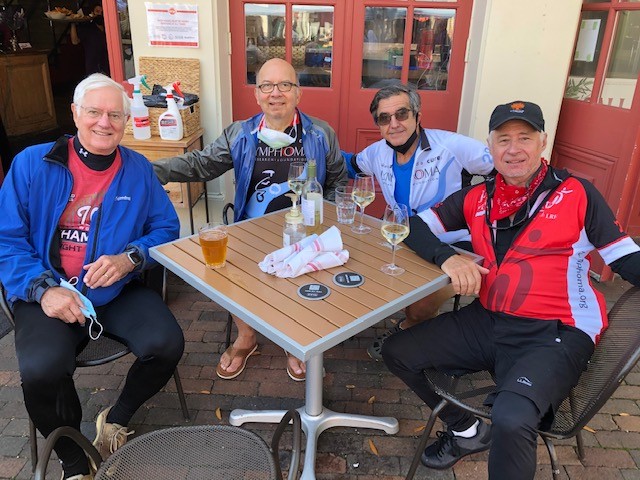 Following medical school, Dr. Smith completed his residency and oncology fellowship at Georgetown University. He remained a full-time member of Georgetown's academic faculty for five years and participated in clinical trials, teaching and patient care.
He has been in private practice in the D.C. metropolitan area for many years and has been an integral advocate in the community to promote access to clinical research. In practice, he continues to pursue cutting-edge cancer care focused on the comfort and satisfaction of each patient and his or her family.
The ride was founded in 2007 by Dr. Bruce Cheson, deputy chief, Division of Hematology-Oncology and Head of Hematology at Lombardi Comprehensive Care at Georgetown University, along with his wife, Christine Cheson.
The couple was inspired to create the ride to give back to patients and the medical community, while supporting research and raising awareness about the disease.
This year's ride was modified to ensure the health and safety of participants and the community, with riders choosing their own safe and socially distanced routes. Dr. Smith, along with fellow oncologists, completed a 17-mile course through Maryland and the District of Columbia.
The 2020 ride raised more than $290,000.
"With more than $5 million raised to date, the Lymphoma Research Ride is truly changing lives,'' Dr. Cheson said. "As the event grows each year, we are able to help more individuals and their loved ones, not only in our D.C. community, but nationwide, who have been affected by lymphoma. We're humbled and inspired by the enthusiasm and the continued strength of our riders, volunteers and supporters, and truly feel we are on our way to finding a cure for this disease."
With more than 30 local offices in New Jersey, Connecticut, Maryland, Pennsylvania and the Washington, D.C. area, RCCA is one of the largest oncology networks in the country. RCCA offers the most advanced treatments, including breakthroughs such as immunotherapy and targeted therapy. With a staff of highly trained, capable and experienced oncologists and other medical professionals, RCCA provides the highest-quality care, focused on the individual needs of each patient.
Learn more about RCCA.
Learn more about the Lymphoma Research Foundation.